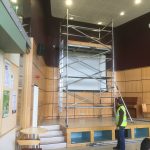 The firm works in all areas of the electrical services industry, catering for everything from burglar alarm and CCTV systems installation to access control and computer networking. It has completed a diverse range of projects in both private and public sectors. One of its current contracts involves the design and installation of the administration building for Ireland's largest windfarm at Meenadreen near Donegal town. The 95MW Energia windfarm contains 38 turbines and is capable of producing enough electricity to power 50,000 homes. Energia Renewables has invested a whopping €145 million in developing the windfarm.
Grants Electrical Services Ltd is also currently working on the upgrade of eir's Galway District Headquarters in Mervue and social housing schemes in both Inishowen and Letterkenny for Donegal County Council. HML Plant Hire and Crana Cranes & Construction, who are also based in Buncrana, are the main building contractors on the eir and social housing projects respectively, while Denis Moriarty is the main civil contractor to the Meenadreen wind farm.
Recently completed contracts include the Donegal Physiotherapy & Performance Centre in Letterkenny, Muff and St. Boden's, Culdaff National Schools in Co. Donegal, Royal and Prior Comprehensive School in Raphoe, Dillon's Hotel in Letterkenny, Killybegs Community Hospital and Wafer Enterprises in Derry.