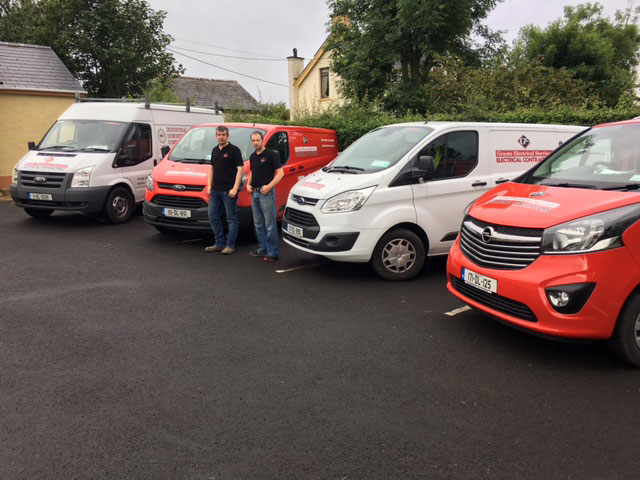 Grants Electrical Services Ltd is a leading registered electrical contracting firm based in Buncrana, Co. Donegal offering an experienced, skilled, responsive, reliable and competitive service delivered on time and within budget.
The business was established in 2001 by brothers Stephen and Damien Grant. It has grown to employ nine electricians and has an ever-expanding customer-base on both sides of the border. For this purpose, it is both a Safe Electric (Republic of Ireland) and NICEIC (Northern Ireland) registered contractor.
Specialising in industrial, domestic and commercial electrical contracting, Grants Electrical Services guarantees a high-quality service and dedicated customer care at costs you can afford. The company works closely with its clients to understand their needs and can tailor its methods and service to suit your requirements. Grants Electrical Services is committed to helping the client achieve their goals and solve their problems.
With a skilled and versatile team of professionals, the Inishowen contractor offers a wealth of industry experience and expertise, is equipped to take on contracts of all sizes, and boasts an impressive portfolio of work. Grants Electrical Services delivers results you can depend on and advice you can trust. Commitment, care and consultation are the hallmarks of everything it does.
The company prides itself on its quality, attention to detail and value-for-money service and strives to promote best practice in Health & Safety at all times.  Many of the staff engage in constant upskilling to keep abreast of all the latest developments within the industry.
Our services include:
Commercial electrical contractor
Domestic electrical contractor
Industrial Electrical Contractor
Electrical contractor Donegal
Electrical Contractor Letterkenny
Electrical Contractor Inishowen
alarm systems donegal
Alarms letterkenny
alarm systems Inishowen
CCTV Donegal | CCTV Letterkenny
CCTV Inishowen
Electric Gates Donegal
Electric gates Letterkenny
Electric Gates Inishowen
Fire alarms Donegal
Fire alarms Letterkenny
Fire alarms Inishowen
Data Networks Donegal
Data networking Letterkenny
Data Networks Inishowen